Our Story
The City of Grace Mobile was birthed out of an on-campus Bible study at a local Mobile university. After about a year of weekly worship and Word services, God lead us to establish the ministry at a separate location. We shared space with a Seven-Day Adventist congregation for about three years until COVID-19 forced the church to "leave the building". Taking our worship global through online weekly worship and Bible studies, The City of Grace was no longer confined to one address, but instead, became a universal address for people from all over the world looking to connect with a body of believers and grow in their faith. The need for a grace place was especially critical given the COVID-19 crisis that has been gripping the globe and continues to impact our communities. Hope has been a commodity in short supply, but God is a God of infinite hope. The City of Grace's mission is to share God's Word to those with no hope and to reflect His grace in our communities and our world.

During the pandemic of 2020, God provided for The City of Grace Mobile to purchase our own facility--a 10,000 square foot building with unlimited potential--and we began the process of converting the space into a ministry outreach aimed at reaching and restoring people by God's grace.

We invite you to join us on our journey of growing in grace and studying God's Word. There's always a place for you in The City. You belong here.
Our Beliefs
The Bible
The Bible is God's Word to all people. It was written by human authors under the supernatural guidance of the Holy Spirit. Because it was inspired by God, the Bible is truth without any mixture of error and is completely relevant to our daily lives. Deuteronomy 4:1-2 | Psalm 119:11, 89, 105 | Isaiah 40:8 | Matthew 22:29 | John 5:39; 16:13-15; 17:17 | Romans 15:4 | 2 Timothy 3:15-17 | Hebrews 1:1-2; 4:12 | 1 Peter 1:25 |
2 Peter 3:16

Trinity
God has existed in relationship with Himself for all eternity. He exists as one substance in three persons: the Father, the Son, and the Holy Spirit. Although each member of the Trinity serves different functions, they each possess equal power and authority. Deuteronomy 6:4 | Isaiah 61:1 | Matthew 28:19 | Mark 1:9-11 | Luke 1:35 | John 5:21-23; 14:10, 16 | Romans 8:9-11 | 1 Corinthians 8:6 | 2 Corinthians 13:14 | Hebrews 1:8-10 | James 2:19

The Father
God is great: He is all-powerful, all-knowing, ever-present, unchanging, completely worthy of our trust, and above all, Holy. It is in Him that we live, move, and exist. God is good. He is our Father. He is loving, compassionate, and faithful to His people and His promises.
Exodus 3:14 | Numbers 23:19 | Leviticus 11:44-45; 19:2 | Psalm 11:4-6 | Malachi 3:6 | John 3:16; 4:24; 5:26; 14:1 | Acts 17:28 | Romans 3:3-4

The Son
Jesus Christ is completely human but, at the same time, completely God. He is the only plan for bringing people who are far from God back into a right relationship with God. He lived a perfect life so that He could be a substitution for us in satisfying God's demands for perfection. He defeated death in His resurrection so that we can have life.
Isaiah 7:14; 53 | Matthew 1:18-23; 3:17; 8:29; 14:33; 16:16; 28:5-6 | Luke 22:70; 24:46-47 | John 1:1, 14; 10:30; 11:25-27; 17:1-5 | Acts 1:9; 2:22-24; 7:55-56 | Romans 1:3-4; 3:23-26; 8:1-3; 10:4 | 1 Corinthians 8:6 | 2 Corinthians 5:19-21 | Gal 4:4-5 | Philippians 2:5-11 | Colossians 1:15; 2:9 | 1 Timothy 2:5-6; 3:16

The Holy Spirit
The Holy Spirit is the third person of the Trinity. His presence assures us of our relationship with Christ. He guides believers into all truth and exalts Christ. He convicts people of their sin, God's righteousness, and the coming judgment. He comforts us, gives us spiritual gifts, and makes us more like Christ.
Genesis 1:2 | Psalm 51:11; 139:7 | Isaiah 61:1-3 | Joel 2:28-32 | Mark 1:10 | Luke 1:35; 4:1; 11:13; 12:12 | John 15:26; 16:7-14 | Acts 1:8; 2:1-4; 13:2 | Romans 8:9-11, 14-16, 26-27 | 1 Corinthians 3:16 | Ephesians 1:13-14 | 2 Peter 1:2 | Revelation 22:17

Eternity
Man was created to exist forever. He will exist either eternally separated from God by sin or in union with God through forgiveness and salvation. To be eternally separated from God is Hell. To be eternally in union with Him is Heaven. Heaven and Hell are places of eternal existence.
John 3:16, 36 | Romans 6:23 | 1 John 2:25; 5:11-13 | Revelation 20:15

Salvation
The blood of Jesus Christ, shed on the cross, provides the only way of salvation through the forgiveness of sin. Salvation occurs when people place their faith in the death and resurrection of Christ as sufficient payment for their sin. Salvation is a gift from God, and it cannot be earned through our own efforts.
Isaiah 1:18; 53:5-6; 55:7 | Matthew 1:21; 27:22-66, 28:1-6 | Luke 1:68-69; 2:28-32 | John 1:12; 3:16, 36; 5:24 | Acts 2:21; 4:12; 16:30-31 | Romans 1:16-18; 3:23-25; 5:8-10; 6 |
1 Corinthians 1:18 | 2 Corinthians 5:17-20 | Galatians 2:20; 3:13 | Ephesians 2:8-10 | Philippians 2:12-13 | Hebrews 9:24-28 | Revelation 3:20

The Church
The Church is a local community of baptized believers unified through faith in Christ. It is committed to the teachings of Christ and obeying all of His commands, and it seeks to bring the Gospel to the world. The Church works together in love and unity, intent on the ultimate purpose of glorifying Christ and bringing His Kingdom to earth.
Matthew 16:18-19; 18:15-20 | Acts 2:41-47; 5:11-14; 13:1-3; 14:23; 16:5; 20:28 | 1 Corinthians 7:17; 9:13-14; 12 | Ephesians 1:22-23; 2:19-22; 3:10-12; 5:22-32 | Colossians 1:18; 3:15 | 1 Timothy 4:14 | 1 Peter 5:1-4 | Revelation 21:2-3

Making an I.M.P.A.C.T.
IMPACT is an acrostic that lays out our core values as a ministry.

I — Integrity. We will walk it like we talk it. - (James 1:22-25)
M -- Maturity. We don't sweat the small stuff, and compared to Christ, it's all small stuff.- (Ephesians 4:14-15)
P — Passion. We go hard in the paint for Christ. - (1 Corinthians 9:24-27)
A — Accountable. We have been called out to live up. The world is not the standard for how our lives should be. Jesus is - (1 Corinthians 4:1-2)
C — Character. We will reflect the character of Christ in everything we do and say. - (1 Corinthians 1: 3-4)
T — Teachable. We don't have all the answers, but we are constantly seeking the One who does. We will maintain open minds and open hearts to receive what God is saying and change our lives to his will. - (2 Tim. 2:2)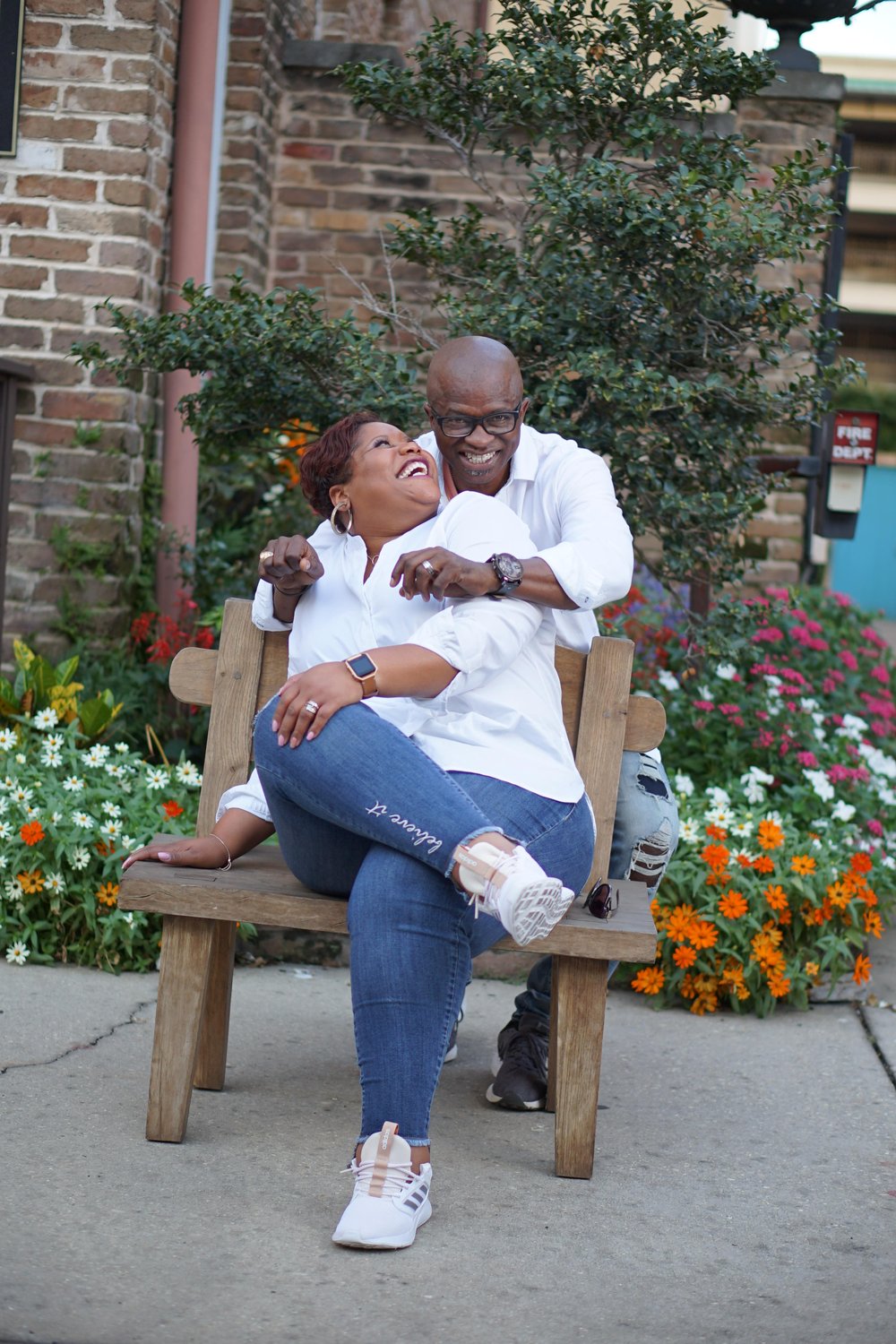 ---
Meet the Dent's
Apostle Dr. Charles & Jabaria Dent serve as pastors of The City of Grace Mobile. Partners in ministry and in life, they are passionate teachers and leaders who love to laugh and share their passion for Christ and His Word with others.

A life coach, mentor, and author, Apostle Dent has written 4 books and leads weekly online coaching and motivational sessions online. He also leads Barnabas Bunch, a nationwide men's discipleship group aimed at encouraging men to pursue their passion and purpose. Follow him online here.

Pastor J (as she's affectionately called) is a speaker, teacher, and worship leader with a heart for women and girls. Her ministry, Abigail's Daughters, takes women on a weekly journey through God's Word, allowing them to see themselves through the lens of Scripture in a new and exciting way. Abbie's Girls, a mentoring program and Bible study for young ladies ages 13-21, offers girls an opportunity to explore their purpose and passion through mentorship and Bible study. Follow Pastor J online here.

The Dents are also social entrepreneurs with the goal of transforming communities, one family at a time. Their company, Dent Enterprises, Inc. partners with faith-based and community-based organizations to provide coaching and education for families while investing in the economic development and revitalization of underserved communities.

Their most important role, however, is serving as parents to six amazing souls--Jessica, Meagan, Chelsea, Christopher, Sharayon and Kennedy.